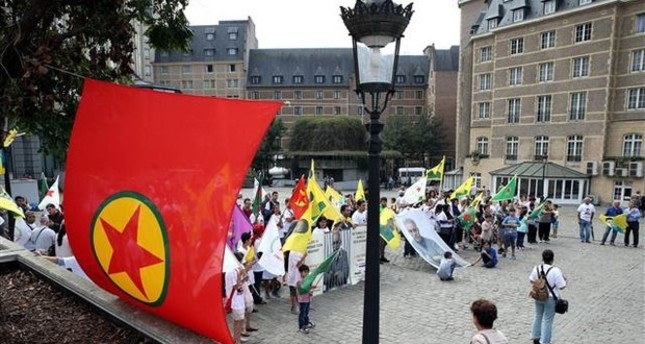 Belgium once again proved a safe haven for terrorist organizations as it allowed PKK supporters to stage a demonstration in central Brussels. PKK symphatizers, gathering in Spanjeplein Square, celebrated the group's first attack against Turkey
PKK supporters gathered in Brussels's Spanjeplein Square on Sunday to celebrate the anniversary of the terror group's first attack against Turkey on 15 August 1984.
Despite the fact that Belgium and the European Union recognize the group as a terrorist organization, local authorities did nothing to prevent the demonstration or to disperse the PKK supporters.
At the rally, PKK banners were hung on lamp posts and posters of the jailed leader of the group were carried by the supporters.
PKK sympathizers at the demonstration demanded that the group's leader Abdullah Öcalan be freed.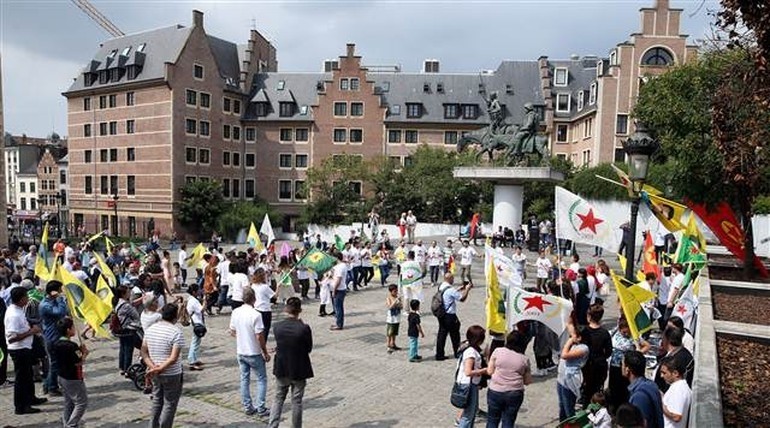 Brussels police allowed the group to stage the protest, even though Belgian officials said that the demonstration was "unauthorized."
The 15 August 1984 PKK attacks, which were led by Mahsum Korkmaz, marked the start of PKK terror attacks in Turkey. PKK terrorists attacked the gendarmerie station in Eruh district of southeastern Siirt province and killed one gendarmerie soldier, injured six soldiers and three civilians. Simultaneously, PKK forces attacked a gendarmerie open-air facility, officer housings and a gendarmerie station in Şemdinli district of eastern Hakkâri and killed two police officers, injured one police officer and a soldier.
Belgium has before come under fire by Turkish authorities for their tolerance towards terrorist organizations operating in the country.
Fehriye Erdal, a member of the Revolutionary People's Liberation Party Front (DHKP-C) terrorist organization, who was involved in the killing of a prominent Turkish businessman in 1996, had fled to Belgium after the murder and was not extradited to Turkey despite all demands. The country also does not recognize her as a terrorist and describes as a "gang member."
Zübeyir Aydar, a senior PKK member who the U.S. Treasury Department has designated as an international drug trafficker, was arrested in Belgium in 2010 but released three weeks later.
The PKK broke an almost two-year-long unilateral cease-fire with the Turkish state in July 2015, and resumed its armed campaign, which has seen civilians targeted. Hundreds of police, military officers and civilians were killed by PKK attacks, while the Turkish military has conducted a campaign both in Turkey and in the mountainous regions of northern Iraq, where senior PKK cadres hide out. Airstrikes in northern Iraq, as well as operations in southeastern and eastern Turkey, have killed thousands of militants.
The PKK is recognized as a terrorist organization by the U.S., EU and Turkey. Formed in 1978, the group had been fighting the Turkish state for an independent Kurdistan until the early 2000s. The group then shifted its goal to autonomy in predominately Kurdish regions of Turkey.